10 X 10
A collaborative exhibition produced by Manchester's creative community to launch the first annual creative festival Design Manchester, sponsored by the Manchester School of Art, part of Manchester Metropolitan University.
The exhibition took place in the Bench Self Made Gallery and during the festival can be seen at Kosmonaut with a specially commissioned showcase of the pieces by photographer Sebastian Matthes.
Creatives
— Mark Kennedy x David Arnott
'Pub of the week. Forever.'
— John Cooper Clarke x John Owens
'Things are gonna get worse'
— Dave Sedgwick (Designbydave) x Tim Denton
'Don't sit still. Keep going.'
— Helen Musselwhite x Loz Ives (Fieldwork)
'Save Yourself'
— Jon Bland x Mike Ash (Music)
'howfatisjonbland.com'
— Owt Creative
'Diamonds aren't forever'
— Matt Booth x Zelig Sound
'VISUALISER'
— Percy Dean x Alan & Brenda
'Alan and Brenda: Diptych: Percy Dean 2013'
— Katherine Beefheart x Buddha
'Karma's a bitch'
— Liam Hopkins (Lazerian) and Daren Newman
'Unknown Time'
Creative profiles
10 x 10 featured designers, makers, crafters and creators who have been tasked with creating a piece in collaboration exploring the theme of longevity.
Mark Kennedy x David Arnott
'Pub of the week. Forever.'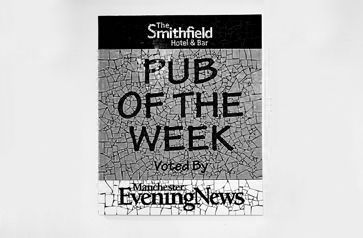 …I saw the best minds of my generation destroyed by madness, starving, hysterical, naked… was the opening line to Ginsberg's seminal poem. Howl of the British pub one could state… I saw the best pubs of my community destroyed by smoking bans, tax hikes and the greed of breweries. In the so called northern quarter the British pub has become a success story. It has even become a career move for the middle classes to become a landlord or a landlady. The new hipsters flock to this museum piece for hand pulled beers that sit nicely with the beard, the cardigan, the 50s handbag. This piece of work (pub of the week, forever) works as a homage to nq pub the Smithfield hotel. It is a pub that is effortlessly a pub. Its beer is cheap. Its regulars are full of stories and it is about to become modernised as it undergoes refurbishment. Success and failure are strange bedfellows. In the Smithfield hotel you can get a bed for 35 quid a night… one for the ditch then… cheers… goodnight.
Note from landlord: It's £20 a night.
Mark Kennedy
Born. Ardwick 1965. Left school. Looked for a job. Played guitar. Found job. Hated job. No job. Dole. Lived in Salford. Leeds. Madrid. Ordained as novice monk for 1 year. Lived in and around Scotland. Got a degree at Salford university. Put the art of mosaic he'd witnessed in Madrid to the iconography he'd learned in Buddhism. Hey presto afflecks palace Manchester icons. 20 years and still counting.
www.markkennedy.co.uk
John Cooper Clarke x John Owens
'Things are gonna get worse'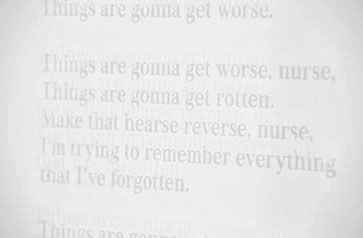 John Cooper Clarke is working with designer John Owens (Instruct Studio) to laser etch a uniquely penned poem into Perspex, detailing the woes of growing old.
John Cooper Clarke
Britain's best-loved and most important performance poet. John is as vital now as he was in the 70s; His biting, satirical, political and very funny verse, is delivered in a unique rapid-fire performance style.
www.johncooperclarke.com
John Owens
Design, the culture and all the processes that surround it have dominated John's life for over 10 years.
His work spans across many disciplines and sectors with strong emphasis on brand, strategy and creative direction. John specialises in experiential design with a background in architecture/regeneration and interactive design, which has led him to curate and design for exhibitions and installations around the world.
www.instructgraphics.co.uk
David Sedgwick (Designbydave) x Tim Denton
'Don't sit still. Keep going.'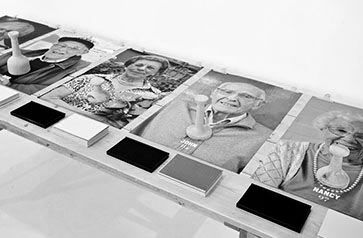 Dave Sedgwick (designer) and Tim Denton (maker) have come together to create an exhibition of work which asks the question, 'What is the secret to a long and happy life?'. Dave and Tim have collaborated with Chorlton Good Neighbours, a collective of older people who meet a few times a week for coffee mornings, exercise classes and social gatherings.
The question was put to this group and these answers have formed the concept and creative for the exhibition. Dave will be designing a series of typographic rubber stamps based on the answers and Tim will be making a set of hand held wooden devices. We will then be asking people at the exhibition to make their own postcards using the stamps and send these out to those they feel may benefit from the pearls of wisdom imparted to us by the older generation.
Portraits of the wise worded ones will be shown as part of the exhibition and the aim is to distribute the secrets of longevity from an older group of Mancunians to the next generation.
Dave Sedgwick
Dave Sedgwick is a graphic designer based in Manchester. He has worked with a variety of different clients and more recently his work has involved organising exhibitions, creating typographic pieces and trying to collaborate and create as much as possible.
@studiodbd
Tim Denton
Tim Denton is a Manchester based Designer Maker that creates furniture and objects which aim to engage people. In the past he has worked as one half of the creative partnership 'electricwig' and also runs the Manchester based design and fabrication company Make Strange & Co.
www.timdenton.info
Katherine Beefheart x Buddha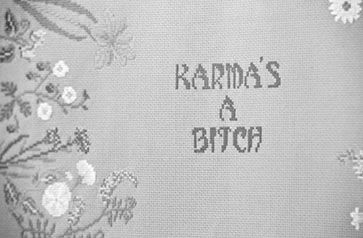 All karma, good or bad, keeps us entangled in the cycle of death and rebirth. Understanding things as they truly are frees us from the cosmic chain of cause and effect.
Katherine Beefheart
Katherine Beefheart is a Buddha-loving embroiderer, producing handmade, and often sweary, philosophy with thread.
@Beef_Art