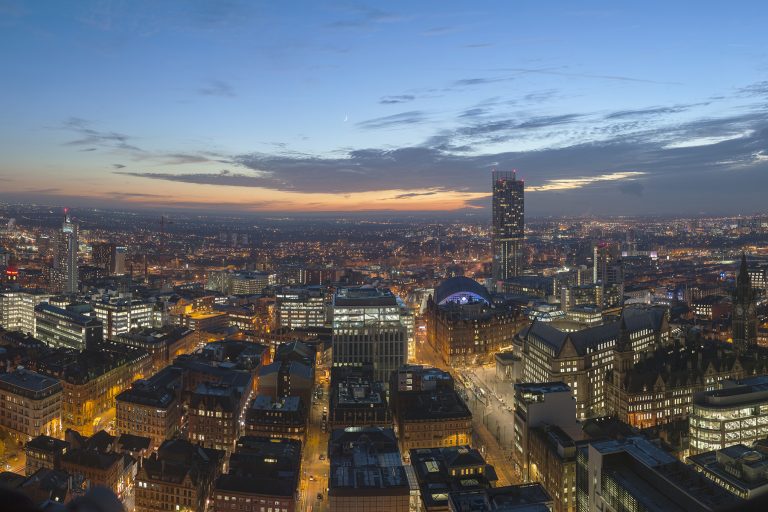 In November 2022, the City of Manchester – birthplace of the industrial revolution, and a diverse city of science, literature, music and sport – plans to host a world festival that celebrates new design thinking in an increasingly urban world.
The World Festival of Design in Cities will feature an international conference where top designers and researchers come together with civic and community leaders from around the globe to share best practice and new ideas. There will be exhibitions showcasing the best in design and exploring the link between heritage and future in cities. A symposium on towns and cities will look at inclusive growth and the relationship between smaller towns and metropolitan centres. A skills programme looks at growth, equal opportunities and diversity in the creative and digital sector, and a public art programme is planned to engage wider audiences and communities in co-designing the future.
More details about opportunities to be involved will be posted on this site in the coming weeks and months, please check back and get in touch.
Design in Cities: the changing landscape
Driven by digital transformation and a renewed focus on making and co-creation, the way we design our cities to be more liveable, inclusive and sustainable is changing. Architecture, infrastructure, transport and the public realm remain important pillars, but so too are mental health and wellbeing, re-thinking public services, equality and diversity, social inclusion, the future of work and, running across everything else, tackling the climate emergency.
As the 10th annual festival of design in Manchester and the international host festival of World Design Weeks, WDC22 hopes to welcome at least 30 cities from all over the world, as well as towns and cities from across the north of England and throughout the UK, to participate and contribute to its discussions and events.
A business plan for the festival, commissioned by Manchester City Council and Arts Council England, was produced last year by Design Manchester, operator of the city's design festival. Since then, the Coronavirus pandemic has dramatically altered the path to 2022 with numerous practical obstacles, yet there has never been a better time for cities to come together and share ideas about designing a better future, with sustainable climate, resilient communities, economic recovery and liveable, inclusive cities.
For Manchester, WDC22 is an opportunity to showcase the wealth of its skills and talent pool and highlight its continuing innovation, building on a heritage where design has been central since before the first industrial revolution.
For participating cities and countries, WDC22 is an opportunity to engage with other cities to build economic and cultural ties, to take part in an international dialogue about design, and to highlight their offer on an international stage.
For businesses and organisations, it is an opportunity to showcase design and innovation, engage with government and policymakers, present products, attract talent and demonstrate social and civic engagement.
For the UK, WDC22 is an opportunity to showcase British talent and innovation on the world stage, build new relationships, and foster mutually beneficial networks between towns and cities within the UK.
Partners
The key partner group developing WDC22 includes:
Design Manchester
Manchester City Council
World Design Weeks
The British Council
Arts Council England
Manchester School of Art at Metropolitan University
Manchester is working with partner cities in all continents to develop exemplar collaborations that represent the festival's inclusive, innovative and collaborative vision. These will inform the programme in which cities worldwide will be invited to take part, ensuring that the festival platform will reflect the diversity of urban experience around the world.
2022 will be the 10th annual festival of design in Manchester, offering a broad programme of exhibitions, workshops, talks and performances that has grown from 10 events with 1,000 attendees in 2013 to more than 50 events attended by 75,000 people in 2019.
The annual Design Manchester International Conference, featuring global and local design leaders, has been attended by full houses at The Bridgewater Hall, packed with early career designers, students and industry professionals.
Since 2014 the festival has featured the UK's annual public debate about design and society, with panellists and contributors including Manchester City Council Leader Sir Richard Leese, GM Mayor Andy Burnham, Dublin city architect Ali Grehan, Aarhus city architect Stephen Willacy, footballer/developer Gary Neville, Cabinet Office Policy Lab director Andrea Siodmok, RSA chief executive Matthew Taylor and peace activist Erinma Bell.
In the run-up to WDC22 a number of direct partnerships with other cities have been developed, including a Liveable Cities debate and conference in partnership with the Danish cities of Aarhus and Aalborg in 2019 and, the following year, a series of virtual co-located events and collaborations with Barcelona, Rotterdam, Eindhoven, Berlin, Salford and Birmingham.
Contact
Kasper de Graaf
Partnerships Director
kasper@designmcr.com
@kasperdegraaf
+44 (0) 7785 302242
January 2021