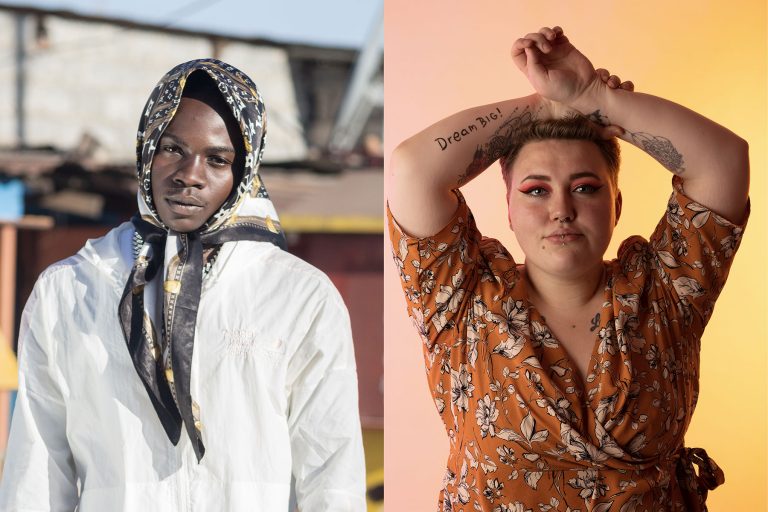 Co-creating portraits of global youth in an era of change
Portraits of Our Future captures a glimpse into the lives of today's global youth, hailing from two distant corners of the world – outside of our capital cities. The exhibition uncovers some unexpected common ground amidst the contrasting landscapes of Bolton, UK, and Kitwe, Zambia: both deeply influenced by their industrial and mining legacies.
Initiated by Design Manchester as part of our Design in Cities programme supported by the British Council and partnering with the University of Bolton in Greater Manchester and the Sotambe Film Institute in Kitwe, young photographers were invited to think about contemporary youth culture and identity within their respective locations. Through collaborative workshops, these artists engaged closely with their subjects, focusing in on distinct aspects of the experience of young people today, weaving threads that connect lives in these seemingly disparate places. The photography in Portraits of Our Future amplifies the voices of a generation who will define the next chapter of their hometown's story.
From a gym fostering unity among rival neighbourhood gangs, to street vendors with a vision for their own future, to those brave enough to share their vulnerabilities with the world, these projects underscore the power of solidarity, the pursuit of excellence, and the search for belonging amidst an era of enormous transformation. Collectively, the exhibition paints a diverse and compelling portrait of a generation navigating the complexities and possibilities of the 21st century.
While visitors may be well-acquainted with Bolton and its history, they may have never heard of Kitwe. Situated in Zambia's mineral-rich Copperbelt region, Kitwe has a complex of mines on its northwestern and western edges and is made up of townships and suburban areas. The mining industry's boom and bust cycles have left an indelible mark on the region's economies, cultures, and communities. Kitwe, established in 1936 during the colonial era, emerged as a copper mining town and its growth and culture have been interwoven with the industry ever since. Positioned strategically within the Copperbelt, Kitwe attracted migration from various parts of Africa and beyond, during its mining boom in the 1960s becoming a melting pot of socio-cultural and political diversity. The city's growth coincided with Zambia's march towards independence in 1964.
Out of this milieu, a thriving music and arts scene emerged, alongside labour unions and political movements. While Lusaka is the national capital, Kitwe's historical importance and diversity mean it is the cultural heart of the country. Bolton, of course, has its own cotton legacy that has similarly shaped its cultural life, language and outlook.
Portraits of Our Future invites viewers to contemplate their own surroundings and how the past may influence, but not dictate, their future. Above all, it aims to give an understanding of the lives of everyday young people in everyday places – and to celebrate the artistry and determination of the next generation.
Image: Mordechai by Douglas Mwaula (left) and Elishia by Patricia Janek
Exhibition open daily 9-5, Sundays 10.30-4.30