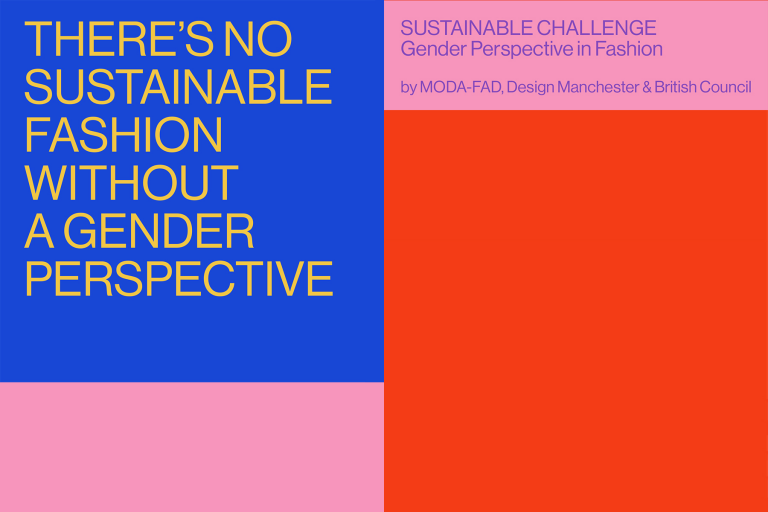 Sustainable challenge: Gender perspective in fashion
Online application required
Closing date 25 October
Tickets
Can we get fashion to integrate the gender perspective? Is it possible for the fashion industry to abandon gender stereotypes? Is a new model enhancing all forms of diversity, including gender, instead of excluding them possible? Can fashion, as a key practice in the construction of sociocultural patterns, play in favour of the visibility of a multitude of realities and become a real tool for social and cultural changes?
If you are a student of fashion or any another discipline related to it, the Sustainable Challenge 2020 offers you the possibility of using your creativity to deconstruct the gender stereotypes that occur in fashion today. Because there is no sustainable fashion without a gender perspective.
MODA-FAD, Design Manchester and the British Council are looking for 40 students from British and Spanish schools to work in teams developing proposals with a gender perspective in areas of fashion such as design, pattern making, marketing, journalism, retail design, casting, photography, styling, etc. This second edition of the Sustainable Challenge will be part of Design Manchester (from November 12 to 16) and will culminate during Barcelona Design Week (from November 17 to 26).
This project, curated by Roberto Piqueras (MODA-FAD) and Lucy-Isobel Bonner (University of Salford), is aimed at students of any discipline related to the fashion and design industry: fashion, graphic, product design, advertising, marketing, styling, pattern making, textile engineering, visual, management, communication, etc. Participants will have tutors and recognised experts who will help them shape the proposals to be developed. The participants will be divided into mixed Spanish and British teams to work the challenge together. Due to pandemic restrictions, the work sessions and project presentation will be carried out exclusively digitally.
The call will be open until October 25 and the selected teams will be announced on November 2.
Submit application to attend on the FAD website here.