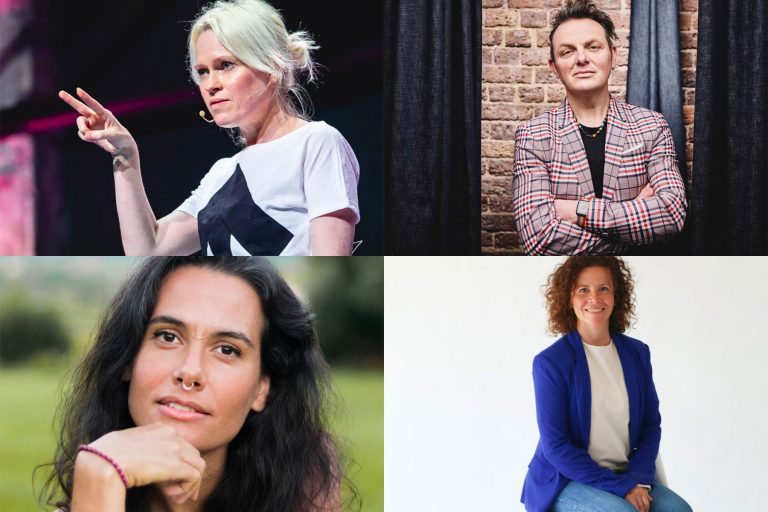 Sustainable Challenge Open Expert Talks: 26 October
Clockwise: Tash Willcocks, Mark Shayler, Celina Tamagnini, Salomé Areias

Within the framework of the «Sustainable Challenge: Industrial Symbiosis, a Booster to Circular Fashion», a joint initiative of MODA-FAD, Design Manchester and the British Council, which aims to rethink the future of the sector from the point of view of sustainability, a series of talks given by experts and professionals from United Kingdom, Spain and Portugal will be publicly streamed. The talks are in English and Spanish.
The online conferences programme aims to present the experience of experts and provide knowledge about the industrial symbiosis and inspiration to the 48 students participating in the Sustainable Challenge for the development of their proposals and projects that will be presented online to the public on November 19th.
For the talks we will have the presence of representatives of the organizing institutions that will introduce the sessions: Núria Mora (President of MODA-FAD), Malcolm Garrett (Artistic Director at Design Manchester) and Ludovic Assemat (Head of Arts at British Council Spain). The sessions will be led and moderated by the project curators, Elizabeth Cardwell and Verónica Kuchinow.
The conference days will take place on October 25 and 26, within the framework of the Barcelona Design Week.
26 OCTOBER PROGRAMME:
4:00 pm – Tash Willcocks
Sticky Problems do not need sticky plasters
In a world of sticky (or wicked) problems it sometimes feels like searching for answers is impossible, it calls for alternative ways of thinking and openly challenging yourself and the team. To quote de Bono "You cannot look in a new direction by looking harder in the same direction"
Tash has spent over 20 years shaping future change-makers in the creative industry, previously as Programme Leader of the BA and MA Graphic Design course at Salford University then as Director of Masters Europe at Hyper Island working with international students and businesses such as BBC, EY, Unilever & Adidas. A project with the UN developed into a larger brief with two of the students pitching to the UN & at SxSW. Tash was made an Honorary Fellow when she left and sits on the Global Academic Board. Tash also has spoken all over the globe at events such as Octoberfest Munich, TedX Manchester, Creative Mornings Gothenburg & for HEC in San Francisco.
4:25 pm – Francesc Sola
Sustainable challenges in carding spinning mill
"Sustainability" is the major tendance in the second most polluting industrial sector.in the world. There are numerous initiatives that are committed to the circular economy, ""0 waste and the protection of the environment, but… is there really a commitment to this type of responsible consumption? With the examples of the problems and the projects that we carry out in Hilaturas Arnau, we want to make known the reality and especially the challenges posed by this sector orientation in the recycled yarn production process.
Consultant and trainer in foreign trade, Law degree and specialist in marketing and market access. He has piloted Area Manager projects in different textile companies such as spinning, accessories, fabric manufacturers and others. He combines his professional work with specialized training in Business Schools (EADA; ESNI) Chambers of commerce and private companies.
4:45 pm – Mark Shayler
It's not sufficient to do things better, we need to do better things
How do we earn more money by selling less stuff? How do we reverse the climate crisis? How do we solve the myriad of sustainability challenges we face? This talk will use pop music to illustrate the power of design to make things better, and to make better things.
Mark is a sustainable design and innovation expert with 30 years experience. Author of two books, director of Ape and Reasons to be Cheerful. He has saved his clients 1000s or tonnes of carbon and $150 million through better design and new product development. He was one of the original team that started the Great Recovery http://www.greatrecovery.org.uk/ that looked at the link between design and the circular economy. He is a founding partner of the Do Lectures.
5:10 pm – Celina Tamagnini
Closing the loop in the workwear industry
For Celina Tamagnini, textil is the new plastic. A big opportunity for corporations to increase their sustainable commitments for a better planet and people by introducing their values in their uniforms. A big challenge for a start-up with disruptive business model and processes.
In 2019, after 20 years working for communications departments across diverse sectors, a change in direction saw her create Circoolar, a business with a positive impact on people and the planet. Her mission: Female empowerment. Her saying: "It doesn't matter what you've been, what matters is whom you aspire to be".
5:30 pm – Salomé Areias
Salomé is an activist passionate about consumer behaviour. She studied fashion design and fashion sociology between Lisbon and Buenos Aires and soon realised fashion trends were not a realistic portrayal of our culture, but instead a strategy to fuel perceived obsolescence. Her ideas about fashion having slower culturally-biased trends in 2010 took her to Science of the Time, Trendwolves, and PSFK. Also teaching and speaking in several events about consumer behaviour, and working as a product manager, she lived in Ghent, Zhuhai, and Luanda.
As the founder of the Fashion Revolution Portugal in 2014, she dug deeper into Sustainability and wondered if transparency within supply chains was enough to make people act collectively towards climate justice. Recent findings on psychoanalysis and mindfulness inspired her to pursue a PhD at CENSE on how to raise consumer awareness through these practices, for which she was granted an FCT scholarship under the PhD program in Environment and Sustainability at NOVA School of Science and Technology.