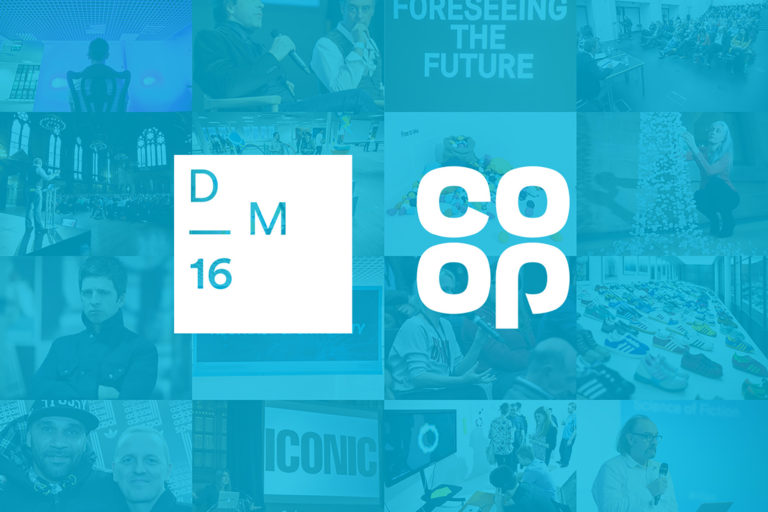 Manchester, 8th June 2016. Design Manchester and The Co-op today announce a partnership, uniting Manchester's thriving creative festival, DM16, with an iconic British brand investing in design at the heart of its business.
The partnership supports DM16, the fourth annual design festival of the city, which will take place from 12th to 22nd October. Now a cornerstone of Manchester's internationally renowned cultural calendar, the design festival takes place in venues across the city. The Co-op will be the headline sponsor of the festival and support a range of digital, design and public outreach events.
Last year's festival drew more than 20,000 visitors including designers, architects, artists, filmmakers, educators, students, families many others interested in aspects of design. This year, the festival will again feature exhibitions, film screenings, a design fair, workshops, talks, presentations, performances, parties, coding clubs and debates.
The partnership comes at an exciting time as the Co-op's new design-led approach rolls out across the business, marrying perfectly with Design Manchester's ambition of projecting design to a wider audience in the city, the region and internationally. The partnership comes two weeks after the Co-op announced a return to its iconic cloverleaf identity from 1968, to symbolise The Group going back to its roots with a renewed focus on its membership.
Malcolm Garrett RDI, co-director of Design Manchester, comments: "We are particularly excited to announce the Co-op as our partner for the DM16 festival, coinciding as it does with the rejuvenation of this iconic Manchester brand. There is a wonderful synergy between the aims and objectives of the Co-op, bringing a design- and customer-driven focus to the fore, and the aspirations of DM16 as an open platform that celebrates design in all its forms and for the good of all people, with Manchester as its home".
Ben Terrett, Design Director, Co-op comments: "Manchester is a known leader in the creative and media sector, with a vibrant eco-system of design and technology companies. It is vital the Co-op plays an active part in that community. Our partnership with Design Manchester signals our intention to create a world class design capability inside the Co-op, building on the talent we already have here. This comes at a pivotal moment for us as we work to re-create the Co-op for a digital era, and demonstrate a different way of doing business for an increasingly connected community, making all our products and services user focused."