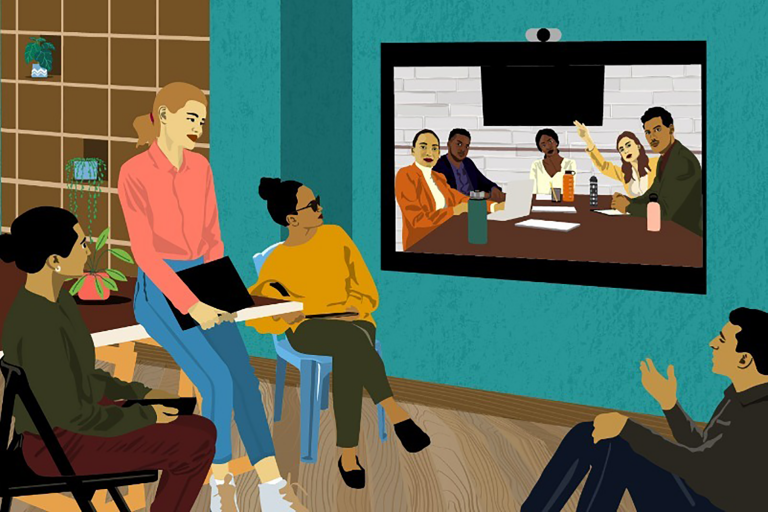 Doing Zero selected as creative commission for COP26 Global Climate Change Conference
One of a growing number of community design projects in cities
Download the Doing Zero project intro book here.
"Doing Zero" a climate action collaboration between communities in Manchester and the Kenyan capital Nairobi, has been selected by the British Council as a creative commission in the build-up to the COP26 United Nations Climate Change Conference that is taking place in Glasgow in November.
Doing Zero brings together people from two inner city neighbourhoods – Harpurhey in Manchester and Kawangware in Nairobi – to look at how the climate emergency is affected by what we grow and what we eat. They will share experiences and ideas about buying and growing food, with recipes and tips about urban farming, and they will take what they learn to the wider community.
The organisers – Design Manchester and Nairobi Design Week – are working with Manchester Climate Change Agency and the Kenya Climate Change Working Group to develop information that is relevant locally and they plan to create collaboration hubs in both communities, linked by large, continual screens that function as doorways into the other city.
Design Manchester supports and promotes design thinking and practice in and from one of the world's great design cities with a range of programmes and events in Manchester and elsewhere.
Doing Zero will be formally launched at the Nairobi Design Week festival on 4 April 2021, the same week that Manchester launches its Zero Carbon Communities Programme. Community workshops and public information campaigns are set to run from April through August and the project outcomes will be showcased in an exhibition in November this year, to coincide with COP26 and Manchester's annual design festival.
Kasper de Graaf, Design Manchester's director of partnerships and cities, said: "What government and industry do is vital in the fight against global warming, but the actions of individual citizens are important too – in changing our behaviour to bring down emissions, and in supporting governments to make the tough decisions that are necessary. Doing Zero is about individuals and communities being invested in the fight to save the planet."
Nairobi Design Week director Adrian Jankowiak said: "While people in Kenya and the UK may feel the effects differently, a lot of their food decisions in years to come will be impacted by climate change. We are excited to co-design a project about the universal topic of global warming with two communities who are affected in very different ways. There is a lot we can learn from each other."
Tania Mahmoud, Cities Programmes Lead, British Council said, "The British Council is delighted to choose and support Doing Zero as one of our creative commission projects. We have been amazed by the unique and innovative climate ideas shown by Doing Zero and especially the strong desire of collaboration between Manchester and Nairobi. Doing Zero is proof that climate action isn't only possible, it's innovative, it's exciting and it makes a difference. We're looking forward to seeing not only the shared experiences from Doing Zero's food production-focused project but also the outcomes and learning adaptations for both communities."
More information on British Council creative commissions can be found here.
Doing Zero is one of a number of city-to-city projects developed by Design Manchester which focuses on new approaches to design in cities, including global collaboration and co-design with local communities. Other projects are in development with cities including Huangzhou in China, Medellín in Colombia, Ndola in Zambia, Barcelona in Spain, Rotterdam and Eindhoven in the Netherlands and Puebla in Mexico. Manchester plans to host an international festival about design in cities which showcases these collaborations a year later, in November 2022.
Doing Zero project partners in Manchester include SICK! Festival, which is running a ten-year local engagement programme in Moston and Harpurhey focused around art, health and wellbeing; community design specialists Standard Practice previously best known for building Manchester's Pilcrow Pub with 600 members of the local community; Manchester Climate Change Agency, and Manchester City Council. Doing Zero is funded by the British Council and promoted in partnership with WWF UK.
Design Manchester's partners for the 2022 international design in cities festival include Manchester City Council, the British Council, Manchester School of Art at Manchester Metropolitan University, Arts Council England, the University of Salford and World Design Weeks.
Illustration by Wanjira Kinyua