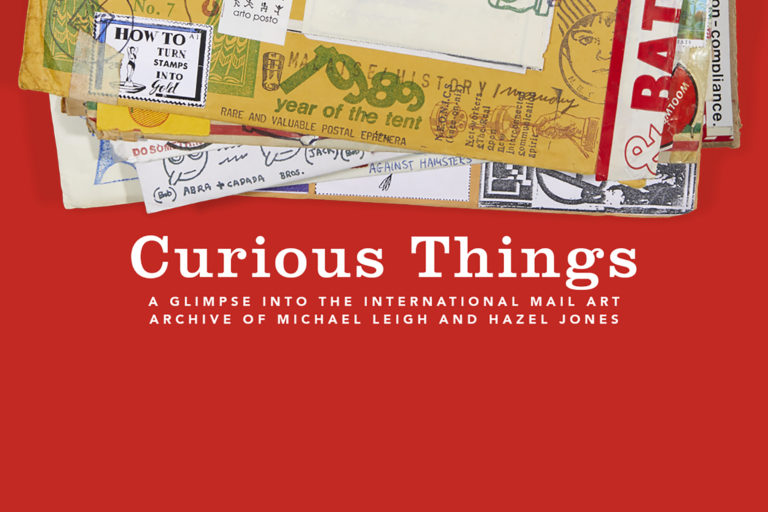 A glimpse into the International Mail Art Archive
of Michael Leigh and Hazel Jones
For more than forty years, artist Michael Leigh has been creating, sending, receiving and collecting Mail Art, small-scale works sent through the post.  The archive he has amassed with fellow artist Hazel Jones includes worldwide correspondence with over fifty artists and encompasses envelopes, rubber stamps, zines, catalogues, badges, artistamps, artist trading cards, add to and pass on books, collaborative books and posted objects.
The archive started in the 1960s when Leigh, an art student in Manchester, began decorating the envelopes he sent to his friends in other arts schools around England with collage, rubber stampings and crude drawings. He was unaware at the time of the American artist Ray Johnson (1927-1995) who had started his New York Correspondence School and was exchanging artful gifts through the postal system with his artist friends and acquaintances.
Leigh's involvement with Mail Art grew when, in 1980, he discovered the International Mail Art Network through an exhibition at the Greenwich Theatre Gallery and was astounded to find so many like-minded individuals around the world who were exchanging art through the post.  He met Hazel Jones through the mail in 1983 and their combined archive has continued to grow.
Curious Things features a selection of material from the archive and has been specially curated by Michael Leigh and Hazel Jones, Senior Lecturer at Manchester School of Art, Manchester Metropolitan University.
Gallery events
To complement the exhibition there will be two free gallery talks:
On Monday 11 November at 2pm, Hazel Jones, Senior Lecturer at Manchester School of Art and co-curator of Curious Things, will give a guided walk around the exhibition, providing visitors with a glimpse into forty years of making, sending and receiving Mail Art. (Please book tickets here).
Additionally, we are delighted that the artist and musician Cosey Fanni Tutti will talk about her own experience of making and sending Mail Art in the early 70s, on Thursday 21 November at 5pm. (Please book tickets here).