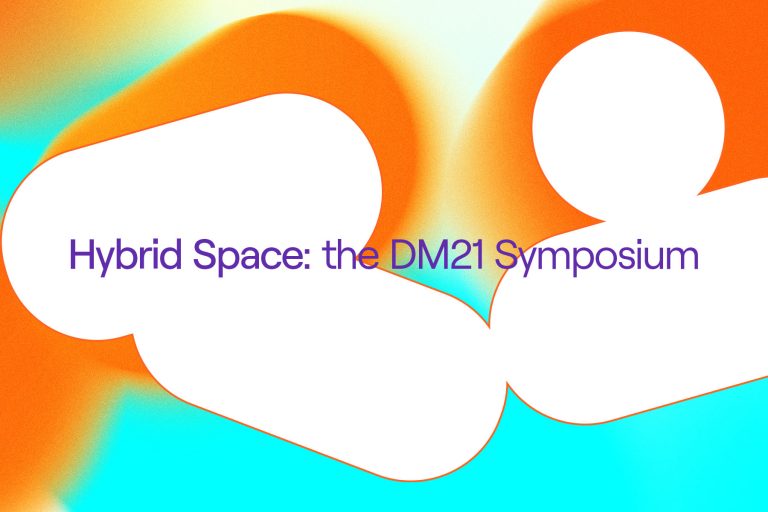 Hybrid Space: the DM21 Symposium
What is the new normal? How can virtual communication reinforce communities and real-world interaction?
In this hybrid symposium, Design Manchester and partners present a deep-dive exploration of hybrid innovation in a series of presentations and panel discussions with contributors both present in the room and joining from other cities including Nairobi, Helsinki and Rotterdam. They'll look at creative projects that have experimented with hybrid collaboration in the last year, on themes including Food and Climate Change, Human Architecture, Art and Mental Health, Connecting Neighbourhoods, Virtual Performance Venues and Street Poetry.
Featured projects include:
Lost Horizon in the metaverse: Kaye Dunnings and Robin Collings, directors of Lost Horizon and Shangri-La Glastonbury will present the beta version of the world's first fully hybrid venue, with an exact digital twin capable of replicating performances into VR in real time, developed throughout lockdown in collaboration with a team including Design Manchester's Fiona McGarva and John Owens.
Go Global Stay Local: Malcolm Garrett MBE RDI, Jo Greenhalgh and Patrick Thomas present a new book from Design Manchester that features some of the 600,000 images generated at DM20's University of Salford design workshop. The event was hosted online by Open Collab in Berlin, and students from seven universities in the UK, Germany, Holland and Spain were invited to participate. The Print on Demand book is available in custom editions from five of the participating schools: Manchester School of Art, the University of Salford, Birmingham City University, State Academy of Art & Design Stuttgart and the University of Applied Sciences & Arts in Dortmund.
You ain't from around here… In a discussion led by SICK! Festival creative director Tim Harrison about what can be gained by community arts projects connecting with perspectives from outside their own neighbourhoods, creative practitioners talk about four international projects linking with the local community in Moston and Harpurhey, with a panel including Debra King (Brighter Sound), Shirley May (poet and director of Young Identity), the poet Sjaan Flikweert in Amsterdam and games designer Eetu Rantanen in Helsinki.
PastPresentFuture, a digital exhibition presenting audio recordings from world-leading creatives talking about creative influence, places, practice and ideas, featuring Paula Scher, Harris Elliot, Rejane Dal Bello, Anthony Burrill and many more, curated by DM co-creative director Malcolm Garrett and John Rooney. As part of this event, John Rooney will live record a new episode by interviewing Manchester School of Art Director Professor Martyn Evans about his influences and ideas.
Hybrid Space is an Arts Council England-funded engagement programme by community arts organisation 2NQ which sought to learn from previous experiences of redesigning events during lockdown. The programme included Art School in a Box, a series of hybrid art sessions with vulnerable adults in partnership with MIND Islington, and the Hybrid Space workshops which convened a diverse group of creative and social practitioners in different places around the UK to make real world connections. Hybrid Space will be presented by Thea Behrman, Jo Hudson-Lett and participants including Lora Aziz and Michael Sanders, followed by a Q&A.
Doing Zero, a collaboration with Nairobi Design Week that explores the link between food and climate change between communities in Manchester and Nairobi, which was selected as a creative commission for COP26 by WWF and the British Council. Doing Zero will be presented by Naitiemu Nyanjom and Adrian Jankowiak in Nairobi with Jess Higham and Kasper de Graaf in Manchester.
The Hybrid Space Symposium is produced by Design Manchester in partnership with 2NQ, Nairobi Design Week, and SICK! Festival. It is supported by Manchester School of Art at Manchester Metropolitan University, the British Council and Arts Council England.
The event is free to attend but registration is required.