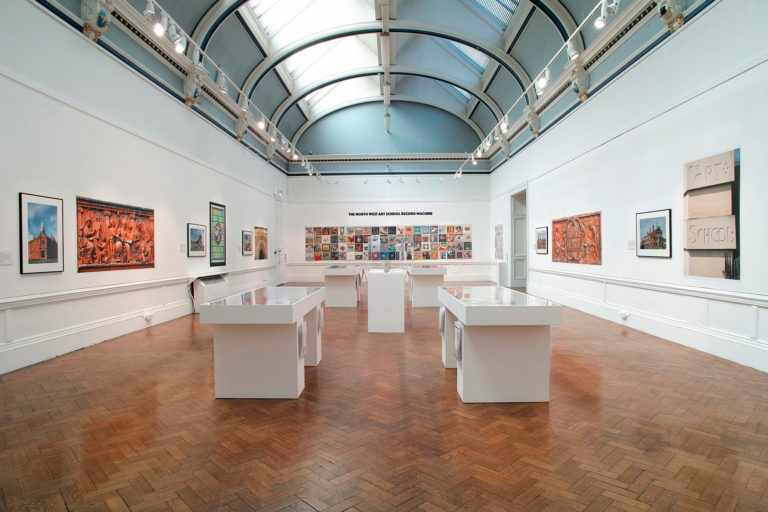 The North West Art School Record Machine
John Beck and Matthew Cornford with Bryan Biggs. Curated by Kat Au.
The grand nineteenth century art school buildings of the North West were intended to train workers for local industry, but after the Second World War they also served to incubate the generations of musicians and designers responsible for transforming British popular culture.
The North West Art School Record Machine has been developed out of John Beck and Matthew Cornford's survey of the region's art school buildings, exhibited at Bluecoat in Liverpool, 2018–19. Some of the images from that show are augmented here with new details focusing on the inscriptions, friezes, or stained glass windows that once announced in graphic form on the outside what was going on inside the art schools.
In addition, for this new exhibition, Bluecoat's Artistic Director Bryan Biggs has gathered an astonishing range of over 100 record sleeves, produced by designers and musicians who all, in one capacity or another, emerged from the art schools of the North West. To complete the exhibition, the Record Machine also presents a display of unique mock-ups and material from renowned North West-trained designers Malcolm Garrett and Swifty.
Gallery Events
There are three, free talks in the gallery to complement this exhibition:
Saturday 16 November at 2–4pm, Matthew Cornford and John Beck will give an introduction to the exhibition and its origins as a project making a photographic record of all of the art schools in the North West of England. Other events are also scheduled, check event listing for more detail.
Wednesday 20 November at 7–9pm,Bryan Biggs talks about collecting records and the phenomena of record sleeve design. Check event listing for more details.
Saturday 23 November at 4–6pm, Malcolm Garrett and Swifty, two very different, influential graphic designers, talk to Bryan Biggs about designing for the music industry. This will be followed by other exciting performance events, check event listing for more detail.
Bury Art Museum & Sculpture Centre is open daily from 10am until 5pm and until 4.30pm on Saturdays. It is closed on Sundays and Mondays.