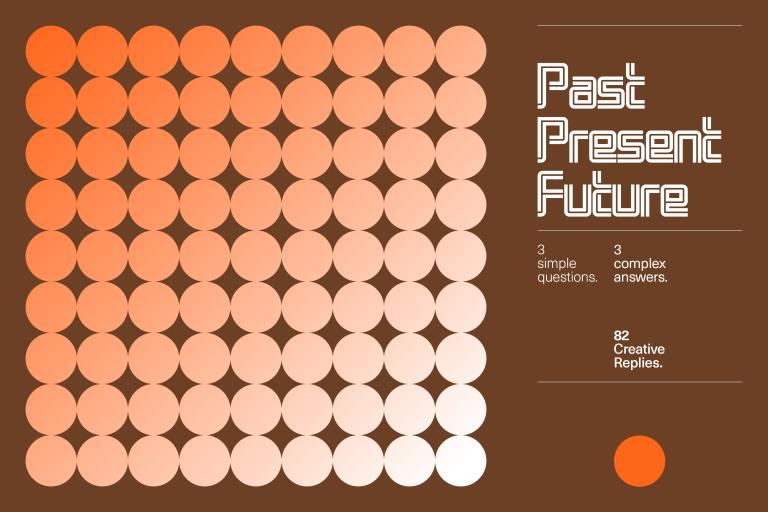 The second series of PastPresentFuture interviews with creatives from around the world launched with musician Johnny Marr, typographic artist Dani Molyneux and celebrated designer Mark Farrow in a first tranche of 12, now available on Spotify.
Listen out for Graham Wood, Stephen Mallinder, Emily Wood, Katy Cowan and six more in the latest collection 2.05.
Curated by John Rooney and Malcolm Garrett, PastPresentFuture invites leading creatives to talk about creative influence, places, practice and ideas. The project was devised at the start of lockdown with the simple idea of asking each person just three questions:
Can you remember the first piece of graphic design you saw; when and where was this?
What are you working on right now?
Do you have any advice for current graphic design students?
––––
The first season of 28 interviews proved so popular that we were inundated with requests from other creatives to add their voices. Season TWO features 54 more interviews, which are being released in fortnightly batches, and will appear on this page when available.
The Season TWO interviews now available on Spotify are:
2.05
Emily Wood
Christoph Grünberger
Graham Wood
Harry Pearce
Katy Cowan
Nigel Aono Billson
Caroline Archer-Parré
Stephen Mallinder
Mark Shayler
Lotte Lawson
2.04
Andy Butler
David Crow
Jim Fry
Beck Howson
Rian Hughes
Carl Hunter
Bruno Maag
Eddy Rhead
Graham Sturt
Martyn Ware
2.03
Yas Banks
James Brown
Paul Hanley
Sarah Hardacre
Jo Hogan
Andrew Ibi
Theo Inglis
Roberto Piqueras
Andrew Renton
Alasdair Scott
2.02
Muiz
Harriet Atkinson
Mat Bancroft
Professor Brian Cox
Graeme Crowley
Andrew Forkes
Patrick He
Scott King
Lea Linin
John Macklin
Raissa Pardini
Roy Sharples
2.01
Mark Farrow
Maxine Gregson
Johnny Marr
Tara Collette
Dani Molyneux
Nico Sharpe
Swifty
Mary Hemingway
Neeraj Kainth
Luke Tonge
Wendy Wong
Professor Martyn Evans
More about the origins of the project and links to all 28 interviews in Series ONE when they were first posted on the Design Manchester YouTube channel are available here. They have now all been posted in one location on Spotify.