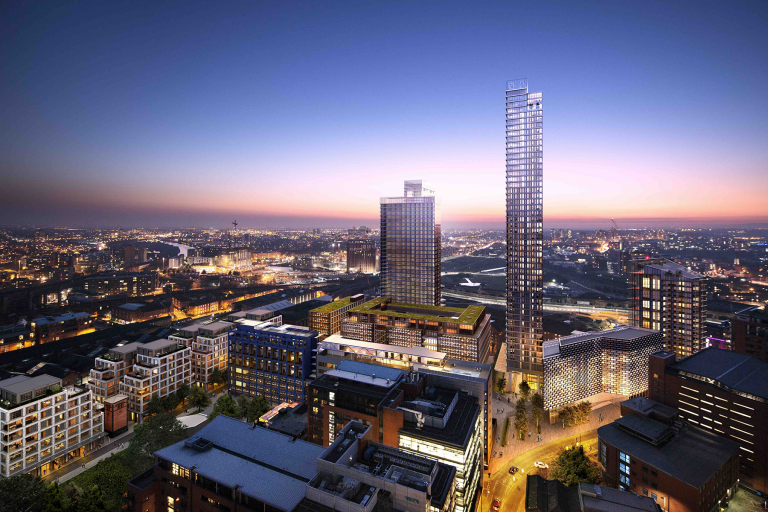 Manchester, 26th August 2016. St. John's Manchester, Allied London's new neighbourhood for culture, enterprise and living is pleased to announce a new partnership with Design Manchester to support DM16, the city's annual design festival in October.
As part of the partnership, Allied London will be providing venues at both St John's and London Road Fire Station for prestigious, creative events such as the annual Great Debate, which will be held on the top floor of St. John's 'Bonded Warehouse' on October 19th. Other Allied London venues in Manchester will also be used for this year's festival, including Art Battle Manchester on October 14th and Design City Fair on October 15th – the Festival's largest event yet, both of which will take place at the iconic London Road Fire Station.
The city-wide festival provides a voice for design across Manchester and is for established and emerging designers, creative professionals, students, public services, industry, families and people young and old in all of Greater Manchester's diverse communities, as well as visitors from across the region, the country and the world. Last year the festival attracted more than 20,000 visitors to 17 events over eight days and this year is expected to be bigger than ever.
Allied London and Design Manchester plan a long-term collaboration to support emerging enterprise and the creative industries in Manchester with events, programmes and connections with other UK cities and worldwide. St. John's will be a cultural neighbourhood; the first of its kind to place equal importance on experience, through arts, enterprise and design as it does on the more 'tangible' bricks and mortar elements of the scheme. St. John's will re-enliven a currently largely dormant site, once home to Granada Television's Studios and provide the perfect platform for a new creative neighbourhood for Manchester.
Allied London has already begun to pave the way for this new neighbourhood with existing St. John's arts and enterprise projects like Low Four and newly re-branded co-work space, OGS Works, as well as gaining credence in the likes of global design authority, Wallpaper* Magazine.
Katie Popperwell, Cultural Director of St. John's commented: "Design thinking has an important role to play in the continuing growth of Manchester as it does in all successful creative cities, and it is central to the vision of the St John's neighbourhood. A focus on good design and positive engagement with the design community will be vital in the creation of St John's, which is why our partnership with Design Manchester is perfectly aligned. Their focus on linking young talent, emerging practice, design education and key high profile individuals in the design industry makes them an invaluable and exciting addition to the St John's story."
Design Manchester director Kasper de Graaf described the partnership as an exciting development. "This partnership connects Design Manchester with another great slice of Manchester character. From So It Goes and Coronation Street to the Museum of Science and Industry and the new Factory, the St John's neighbourhood embodies both the heritage and the future of life and culture in the North West. We share a vision that arts and culture give us a distinctive edge in all areas, from science and technology to enterprise and manufacturing. We look forward to working together to develop opportunities for design and enterprise throughout the city in the coming years."