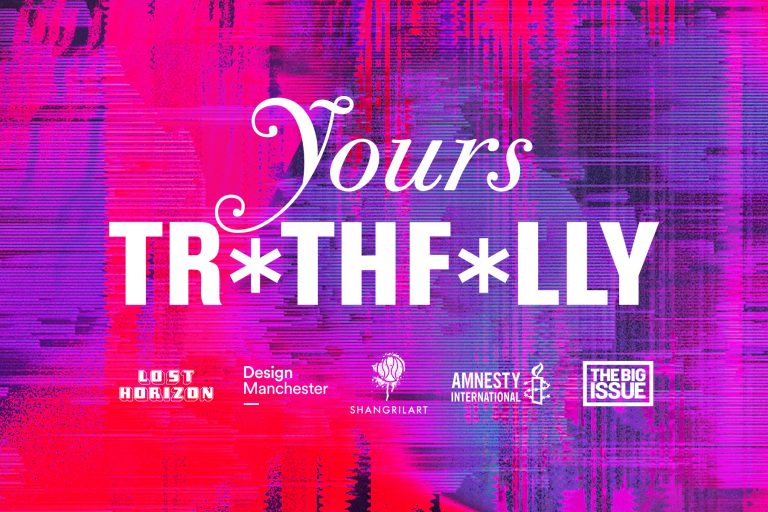 Lost Horizon – Yours Truthfully
Lockdown has posed some serious challenges for us as individuals but also as an organisation, as we all sail a ship through our own storms opportunity favours the brave… and so we venture onwards but in the virtual reality world!
Yours Truthfully is a new exhibition co-curated by world famous graphic designer and co-artistic director of Design Manchester Malcolm Garrett, and Lost Horizon and Shangri-La creative director Kaye Dunnings.
Featured on the towering billboards surrounding the Freedom stage, the brief welcomed  personal messages from artists to the world on the themes of Truth, Justice and Freedom, calling attention to the most pressing social issues in the world today.
The show features work from more than 70 internationally acclaimed artists and studios including Anthony Burrill, Jeremy Deller and Fraser Muggeridge, Studio Rejane Dal Bello, Morag Myerscough, Patrick Thomas, Paula Scher, Raissa Pardini, Stanley Donwood, and taken together this collation of statements conveys a powerful message of unity, and of the freedom to be creative and have your voice heard. 
Prints of selected artworks will be available to purchase, as part of a timed open edition (from 3pm Friday 3rd July to 3pm Friday 10th July), with profits going to The Big Issue and Amnesty International UK*
View the Gallery here
Buy Prints here