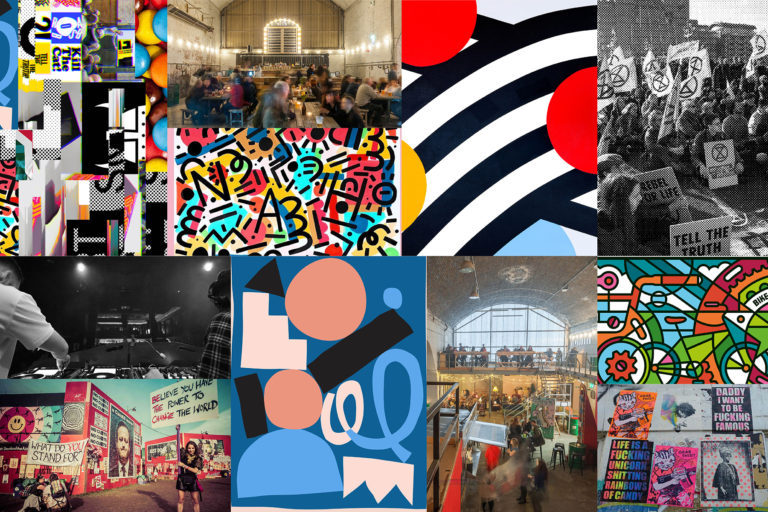 SM(art)TY PARTY – The official DM party
Tickets on sale 01.11.19 at 1pm
We're throwing a PARTY!
But this one is much more hands on, and a lot less standing around in the kitchen.
We've teamed up with some of our creatives friends from far and wide so you can come and long and create, make or just chat in the fabulous surroundings of the Fairfield Social Club.
Teams from Extinction Rebellion Art Blockers, Glastonbury Shangri-La and Paris 68 Redux will be on hand making, disrupting and recycling (thanks to Fred Aldous for the offcuts and bits!) and giving you plenty of opportunities to get involved.
We will have live artwork created on the evening from triple-Manchester threats Atelier Bebop, Caroline Dowsett and Barney Ibbotson. Their completed artwork will be auctioned off for Manchester Mind who are an essential service to our great city.
We've got music from Joy Social and live visuals and sounds from James Dickinson for the evening, of course drinks are aplenty and some food thrown in… come join us and get SM(art)TY!
All ticket funds go into putting this together but we couldn't do it without the help of people like Fred Aldous, G F Smith and everyone on the night.
 
 
With Mayfield, Fred Aldous + G . F Smith
Live artwork, music, food + sm(art)ness
 
Protest Station
(Using Patrick Thomas' Protest Stencil Toolkit)
 
Extinction Rebellion Art Blockers
Kaye Dunnings and Willy Brothwood – Shangri-La Glastonbury
Paris 68 Redux
 
Live artwork from
 
Atelier Bebop
Caroline Dowsett
Barney Ibbotson
Artwork auctioned off for Manchester Mind
 
Music 
Joy Social
Making Jams with The Sound Kitchen 
Have a go at making your own electronic music with producer and sound engineer, Mitch Wellings, of The Sound Kitchen studios, who will guide you through a hands on world of drum machines and synths.
Interactive Live Visuals with James Dickinson
James Dickinson is a multi-disciplined creative heavily focused on live experience design. Working within Manchester's varied music scene he creates experiences and environments that transport you into his world of colour and hypnotic forms. Try your hand at creating your own visuals on the night with his custom built visual creator programme.
 
Food + Drink
The Ottomen