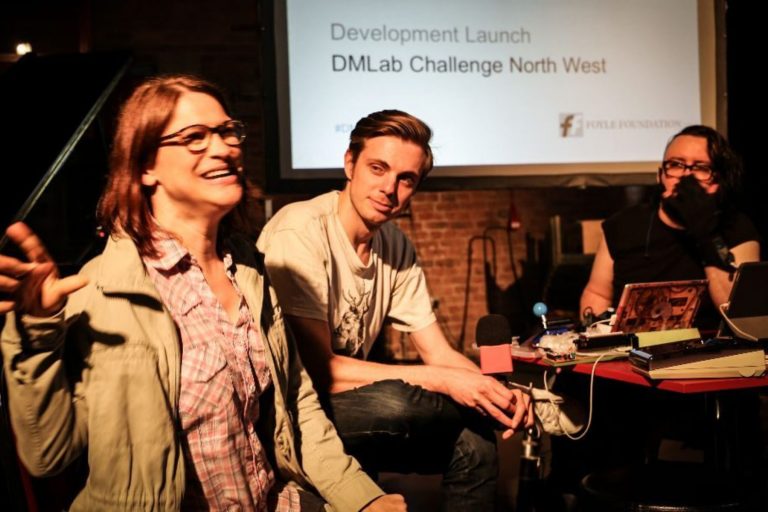 The DMLab programme is run by Drake Music, the leading national organisation working in music, disability and technology. DMLab is about creating a wider range of accessible instruments for musicians, using technology to create interesting & exciting new kit, and supports the development of new accessible musical instruments for disabled musicians.
Drake Music holds monthly meetings at Eagle Labs Salford where disabled musicians, music technologists, coders and instrument-makers gather to discuss and develop projects.
Meetings range from small informal gatherings where work is shared and developed, to larger presentation-based events and everything in between.
The line-up of performers who will be at DM18 is to be confirmed but is likely to include:
Craig Howlett
Craig is a member of DMLab NW and has been developing the Nashesizer alongside Lewis Sykes and other members. The Nashesizer is an accessible, modular control system principally developed for Gemma Nash to improve her access to music software.
Mike Cook
Mike Cook is a retired physics teacher and a long standing member of the homebrew electronics community. He has written several books and writes regularly for publications such as Hackspace and The MagPi. He has a selection of interactive instruments that he's developed in the past and in conjunction with DMLab.
Lewis Sykes
Lewis is a creative technologist who, as mentioned, has worked with DMLab to create new instruments, including his showcase project Sonic Pixels.
Steve Varden
Steve is a musician/composer who has recently been commissioned by Drake to create a performance based around the theme of audience interaction.
Chris Ball
Chris is a freelance technologist who specialises in creating MIDI devices. He has created dozens of instruments and interfaces over the years. He'll be bringing a selection of existing devices and one in development: Sensilo; a device for creating instruments quickly.