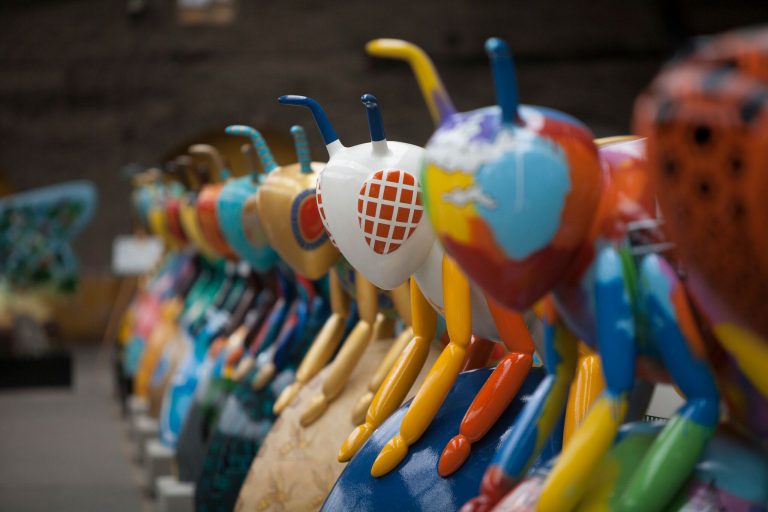 Bee in the City Farewell Weekend
With one month left to go of the Bee in the City trail, event organisers have today announced details for the celebratory Farewell Weekend. This special event will give Bee seekers the chance to see all the giant Bee in the City sculptures together for one last time from Friday 12 – Sunday 14 October. Tickets are on sale now at www.beeinthecitymcr.co.uk/event/farewell-weekend.
Taking place at the HSBC UK National Cycling Centre, the Farewell Weekend promises to be a sight to bee-hold. All 101 of the Bees will swarm together for one final time in the Cycling Centre's impressive Velodrome, the training track for Team GB's Olympic and Paralympic cyclists.
Tickets are available for 90-minute time slots over the three days, which will give Bee fans time to see all of the sculptures featured on this summer's main trail. As the event is expected to be very busy, organisers are encouraging the public to get their tickets before they fly off the shelves!
Ticket holders will be able to get up close and personal with the Bees at the Farewell Weekend before they are auctioned off to raise funds for the Lord Mayor of Manchester's We Love MCR Charity. People are encouraged to 'collect' any Bees to complete their trail hunt, take selfies with their best Bee pal, meet members of the colony they haven't yet seen, and take a final look at the bee-autiful designs.
There will be lots of other family-friendly activities at the Farewell Weekend, from free face painting to live entertainment, food stalls and a Bee in the City pop-up shop selling official merchandise. There will also be the opportunity to meet some of the Bee in the City artists who will be showcasing their artwork at a special art fair.
The Bee in the City Farewell Weekend is the perfect opportunity for people to spot the winged wonder that they might like to bid for at the Bee in the City Auction, which is taking place on Wednesday 17 October at the HSBC UK National Cycling Centre. Over 70 of the giant Bees will be heading off to their new hives after the Auction, but 23 super-sized sculptures that have been decorated by community groups will be staying in Manchester as a lasting legacy of the Bee in the City project. All of the 131 little Bees will make their forever nests with the schools and youth groups that created them.
Even though the Farewell Weekend is on the horizon there are still many ways to get involved in the Bee in the City trail (until 23 September). As well as doing the trail itself, there are lots of bee-themed events to take part in, from guided walking tours and free activity sessions on Well Pharmacy's #FeelGoodFridays, to fascinating workshops and cocktail evenings.
For more information please visit the website here.