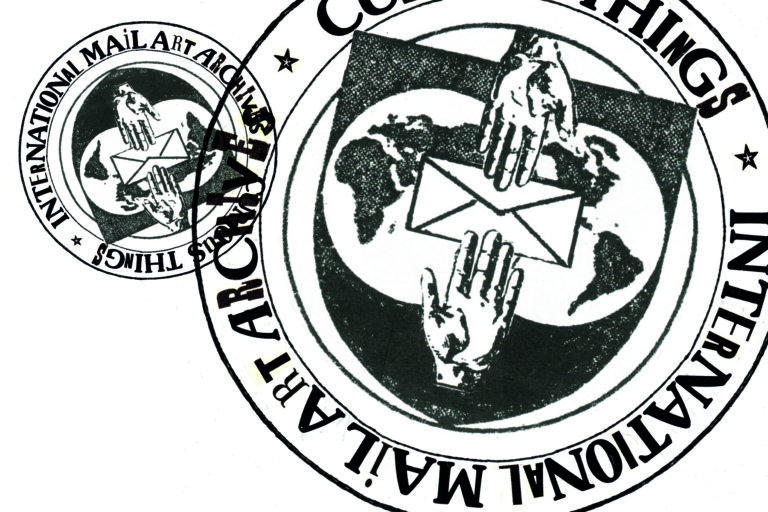 Cosey Fanni Tutti on Mail Art
As a complement to the Curious Things exhibition at Special Collections Museum Manchester Metropolitan University, we are delighted that artist and musician Cosey Fanni Tutti will give a short, informal talk in the gallery about her own recollections of Mail Art and will be on hand to answer questions about working in this field.
Best known for her time in the groups Throbbing Gristle and Chris and Cosey, in the period from 1973 – 1980 Cosey was exhibiting, contributing to mail art exhibitions and performing in other group exhibitions around the world.
Born in Hull in 1951, Cosey began her art and music career during 1969, appearing in art performances and musical improvisations in and around Hull until 1972. In 1973, Cosey moved to London and continued working as a performance artist representing Britain at the 9th Paris Biennale in 1975 and Arte Inglese Oggi in 1976. She also performed in Belgium, Germany, Holland, France, Italy, Austria, USA and Canada until 1980.
1994 marked Cosey's re-entry into the art world since which time her works have been widely exhibited in museums and galleries in the UK, USA, Italy, Austria, Germany, Lisbon, Japan, Spain, Portugal, Switzerland and Sweden. Cosey's continuing multidisciplinary approach to her work has generated many audio and visual works contributing to a prolific output in the past 15 years alongside her guest lectures, discussion panel appearances and numerous presentations.
5.00pm Event opens
5.30pm Cosey Fanni Tutti talks about her work as a mail artist and reads from her book Art Sex Music
Followed by an opportunity to view the Curious Things Mail Art exhibition
7.00pm Event closes
Described by The Sunday Times as 'remarkable' and 'inspiring', Cosey's autobiography Art Sex Music was published by Faber and Faber in 2018.
Cosey will also be appearing at the DM19 conference on Friday 22 November in conversation with writer Jon Savage.