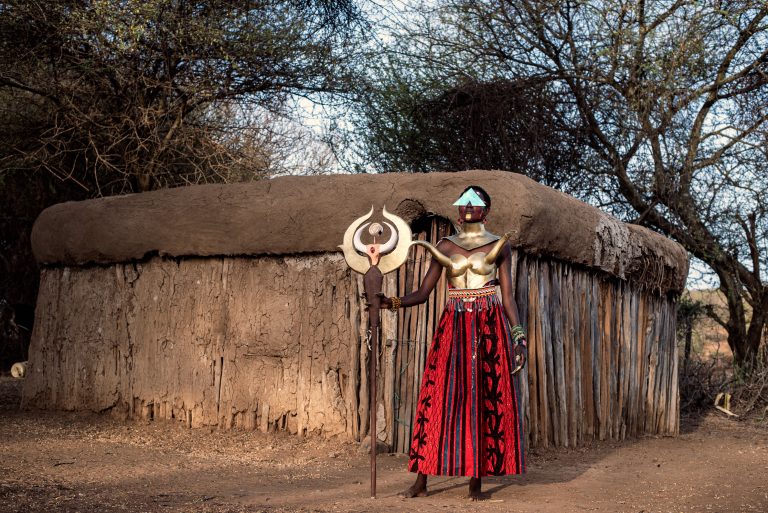 Design Manchester is proud to welcome Enkang'ang', a rich exploration of Maasai female culture and heritage by Kenyan artist and designer Naitiemu Nyanjom, to Manchester School of Art.
Visitors will be able to experience Enkang'ang' through virtual reality for three days during the DM22 pop-up festival, from 23-25 November, alongside an exhibition that will stay in place until the end of the year and is viewable on weekdays. The VR installation can be experienced in the lobby outside the Benzie Theatre on the fourth floor of Manchester School of Art. Naitiemu will also present Enkang'ang' at the DM22 Legacy Conference at Manchester School of Art on 23 November.
Enkang'ang' is n immersive experience within a Maasai enkang', which means homestead – an audio-visual documentation of the rich Maasai heritage with stories from Maasai women, and a boundless future.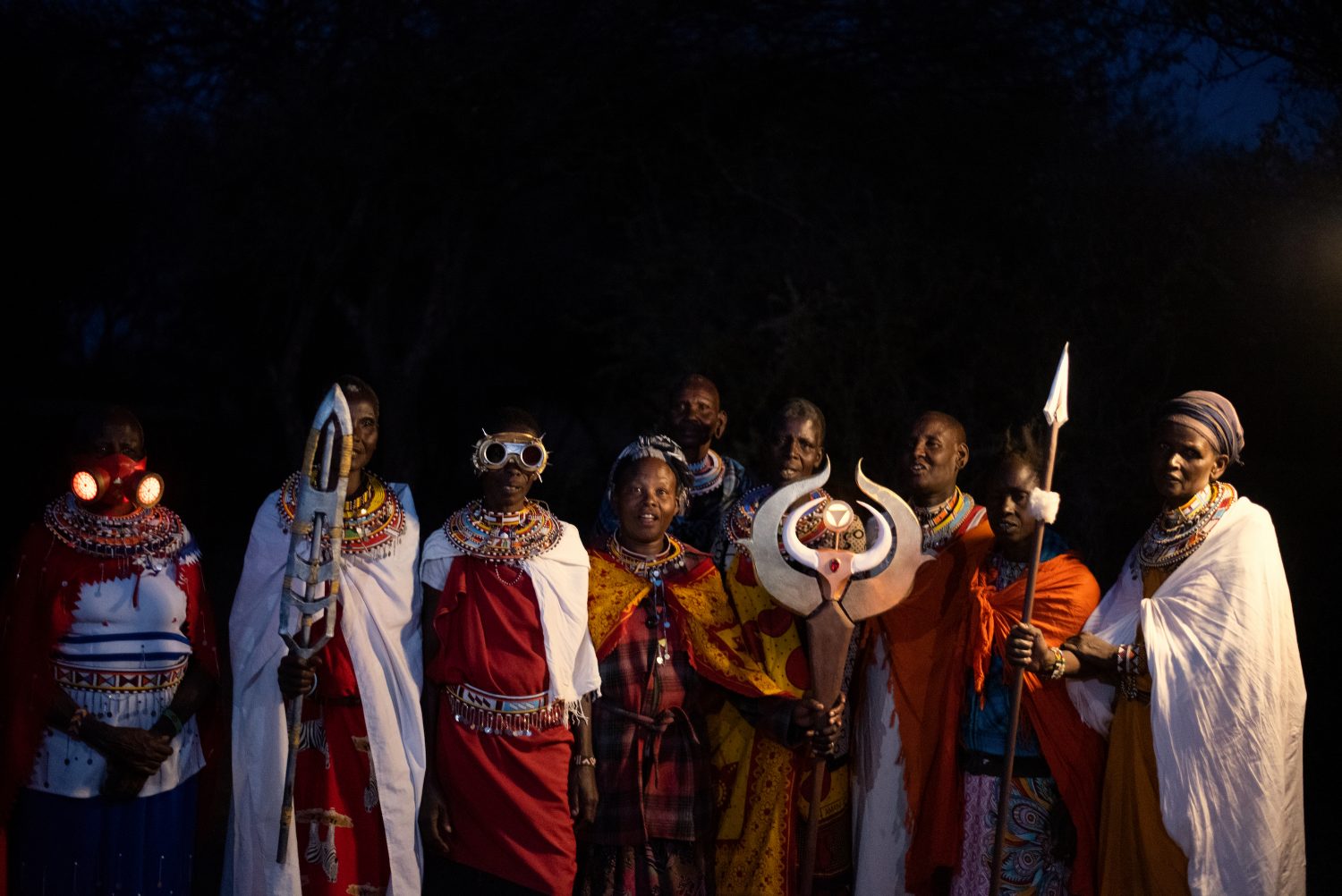 "What can we learn from our traditions?
The Maasai people are one of the few tribes in Kenya that until now, maintain more of their traditional culture and way of life.
They are mainly pastoralists with large herds of cattle. They originally have a nomadic way of life; and many places in Kenya have their names from Maasai origin eg 'Nairobi' comes from the Maa word 'Narobi' meaning 'cold' (cold waters)
Due to effects of colonization, and climate change, the Maasai way of life has changed with time and most of them are now in settled homesteads and practice agriculture too.
We wanted to find out more about their way of life by engaging some of the women from Twala Tenebo women village in a series of conversations about the following topics :
The history and design of the manyatta (the Maasai homesteads)
The Maasai culture; what's good what's not?' according to them
Maasai diet, methods of cooking, food & kitchen rituals
Maasai accessories – beaded jewellery & dresses
Climate change & permaculture
To have a limitless future, we must learn from our past traditions. This is exactly what the performance art piece created afterwards portrays. We were empowered with the knowledge gained from these conversations & experiences to create art that is boundless, and enriched with our ancestral wisdom.
We collected sounds within the manyatta; including the birds chirping, milking cows, women chatting and singing… We also 3d scanned the manyattas, objects around the space, the village women and the performers.
These assets were used to create an immersive interactive experience that can be experienced in VR."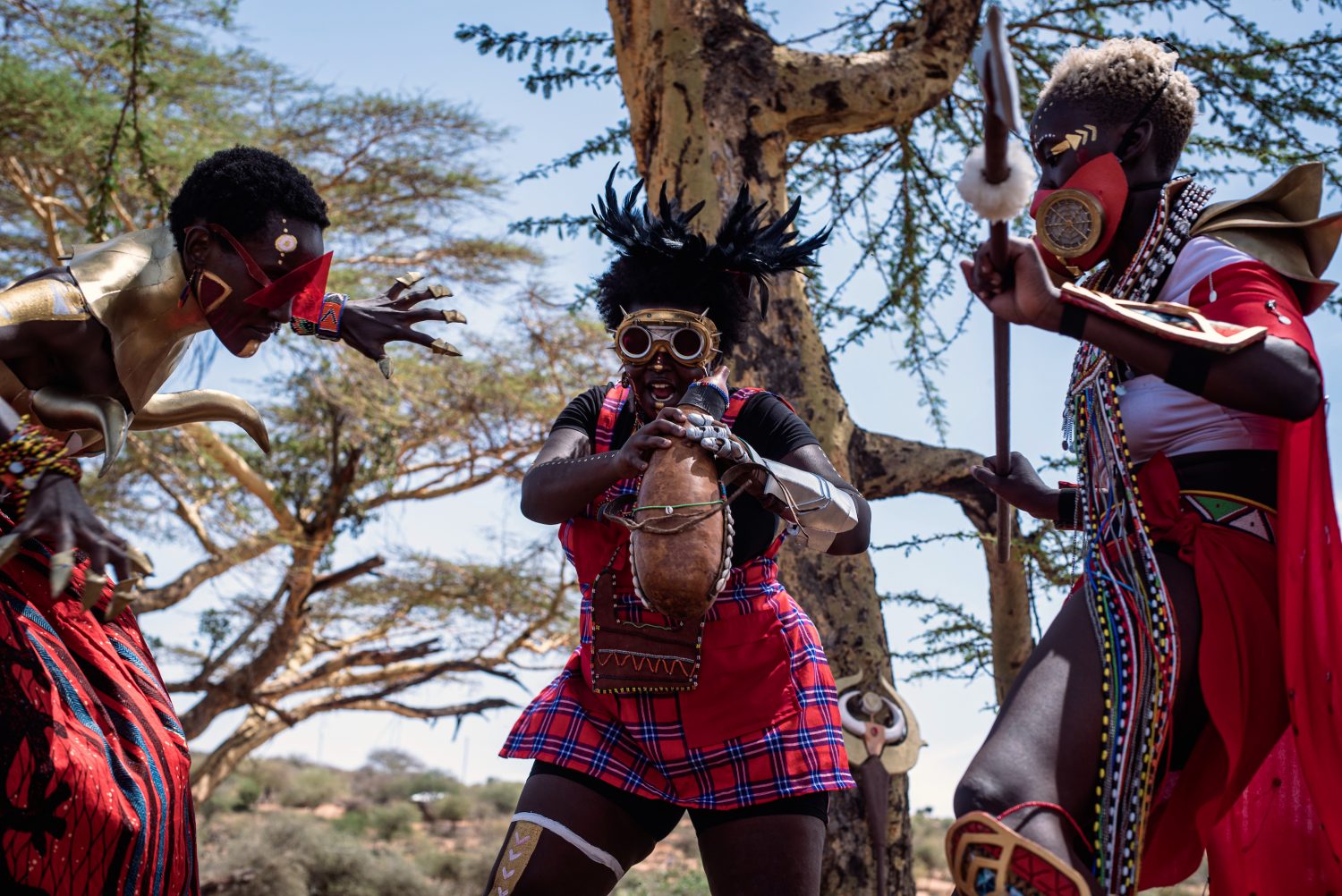 Find out more about Enkang'ang' here.
Enkang'ang' was brought to Manchester thanks to the generous support of the British Council. The project is supported by Soul of Nations, Nairobi Design Week and Black Rhino VR. Technical and AV support by Ade Castronovo and Damon Reid of Manchester School of Art and School of Digital Arts Technical Services. Exhibition print and production support by MMU Print Services, Adam Butler (Manchester School of Art) and Malcolm Garrett (Design Manchester).