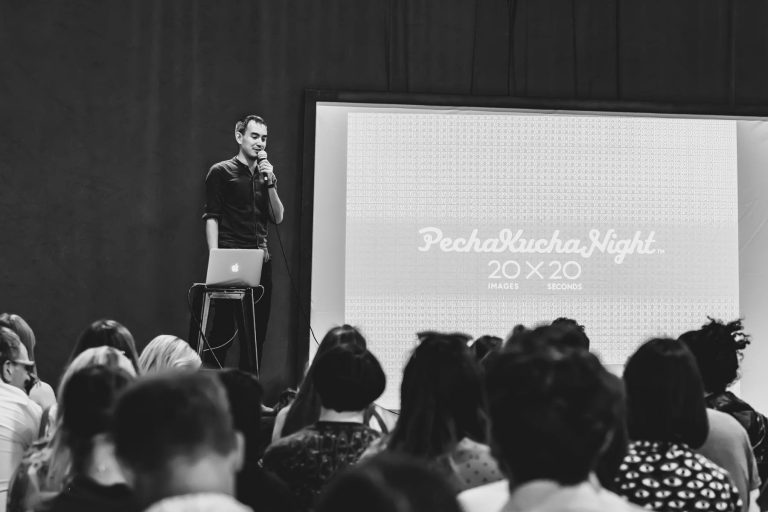 PechaKucha Night Manchester Vol. 24 – 'Disruption'
Are you ready for another round of speedy speeches? For this very special PechaKucha event we're teaming up with Design Manchester to showcase the best in disruptive talent from Manchester. Each speaker has kindly given up their time to take on the PechaKucha challenge: 20 images, 20 seconds per image, no stopping.
We're heading back to the magnificent arches of the Fairfield Social Club, the home of GRUB and other great events in the city. We were last there for PechaKucha Night Manchester Vol. 23 and had a great time enjoying their beer and food!
For this event, we'll have ten speakers all talking about the theme of 'disruption. And as ever we'll be running workshops galore! Have a go at foiling your own artwork with the team at Foilco (see below for details on how to sign up!) and take part in more challenges from Elaborate.
Finally, take part in our first ever ART SWAP! We're inviting you all to bring a piece of artwork to hang up on our wall for our one-night-only exhibition at the Fairfield. It doesn't matter if you are an established artist or a novice, the key is to have a go! At the end of the evening, we will give out the artwork randomly to the audience. With the calibre of artists and designers who come along to our events, you could end up with a masterpiece!
So, the line-up! It's incredible – take a look below:
Line-up
Lauren Kelly – Design Psychologist & Founder, Behaviour Studio
Malcolm Garrett – Artistic Director, Design Manchester and Creative Director, Images&Co
Vikas Shah MBE – Entrepreneur, Investor, Professor
Corin Bell – Founder and Director, Real Junk Food Manchester & Open Kitchen MCR
Ling Tan – Designer, Maker, Coder
Matt Hornby – Sales Director, Foilco
Laura Partridge – Innovation Champion, Great Exhibition of the North
Liam Hopkins – Designer and Founder, Lazerian
RECLAIM – A young person from Reclaim, a youth leadership and social change organisation
Plus one more to be announced…
Follow Pecha Kucha Mcr on Twitter for future events.