D(isrupt)M
Transformation by Design
The DM18 Conference
10:00am - 6:00pm
The Bridgewater Hall

_
Hosted by Patrick Burgoyne (Creative Review)

Hackoustic
If Darren Hesford's 'Totem Recall' doesn't wake you up at 9am nothing will, a unique sound installation can be found in the entrance foyer section...
THE PEOPLE ARE REVOLTING
A collaboration with Patrick Thomas
Threading through the festival theme we will be continuing our disruptive activities with an interactive piece you can get involved with, cutting collage and sketching your protest with help from acclaimed street artist and all round legend Swifty, ably assisted by local creative/artist Tara Collette.
G . F Smith present CHAOS
Paper, craft and making brought to you by G . F Smith.
I LOVE TO HATE YOU
A project from StudioDBD
Honest confessions from a cast of disgruntled creatives... and a chance to vote and have your say.
Ladies Wine Design Presents
A series of talks, short workshops and Q&As hosted by LWD + DM
Two sessions spread across the day on the themes of 'Community Building' and 'Developing Your Own Style. We have some very special speakers including Aleesha Nandhra, Jane Bowyer, Amber Akaunu, Fauziya Johnson, Kiara Mohamed & Helen Musselwhite.
Lecture In Progress
Kate Dawkins in conversation with Marianne Hanoun, staff writer at Lecture in Progress. The two will reflect on Kate's early beginnings and career journey, talking through her work, sharing the challenges she has faced and discussing what she has learned along the way.
Britain, Take A Bow
A continually evolving installation and online artwork that challenges the viewer to reflect on the idea of Britishness and nationalism. No two views will be the same so come and see this work with the creator Graeme Crowley in conversation.
RESIST!
Resist!: How to Be an Activist in the Age of Defiance is a new book published by Lawrence King, we have an exclusive chat with Author Michael Segalov in conversation with Kaye Dunnings, Creative Director of Shangri-la (Glastonbury).
UNIFORM present FUTURE AGENCY
Explore the ideas/concepts and realities of the future agency through tech relics and future AR, there will a few surprises and giveaways from the UNIFORM team.
One Minute Briefs
One Rule/One Minute/Create an Ad... come and test your skills with the OMB team.
RareMags
RareMags collect magazines so you can collect magazines, come and pour over delicious print and part some coin with exclusive DM merchandise.
DMLab
Drake Music North are leaders in music, disability and technology and a group from their DMLab will be showcasing some of their musical instruments for musicians with disabilities.
D(isrupt)M
Transformation by Design
Celebrate the noise makers, the pioneers and the inspiring creators. The unapologetically smart, funny, humble and inspiring. The ones with the business upfront and the party at the back.
Now in its sixth year, this day long conference of ideas and inspiration features internationally celebrated and influential speakers showing an insight into their creative work spanning brand, architecture, film, typography and much more.
We feel the time is ripe for a rumble, to hear and learn from disruptors from all fields and for us to forge our own creative paths in the face of a gloomy mediated future.
If you have been before you know what to expect but we wanted to this year raise the bar so we will have new creative areas full of future conversation, interactive installation and sandwiches (as we will have food and drink on offer) with more to announce…
The Bridgewater Hall is an iconic central Manchester venue, built to give the best possible space for sound. The Hall hosts over 250 performances a year including classical music, rock, pop, jazz, world music and now it's going to host creatives and the curious for a very special day. The Hall is home to three resident orchestras: the Hallé, the BBC Philharmonic and Manchester Camerata.
The space is fully accessible for wheelchair users and the space offers Sennheiser infra-red hearing systems, please enquire if you need any assistance.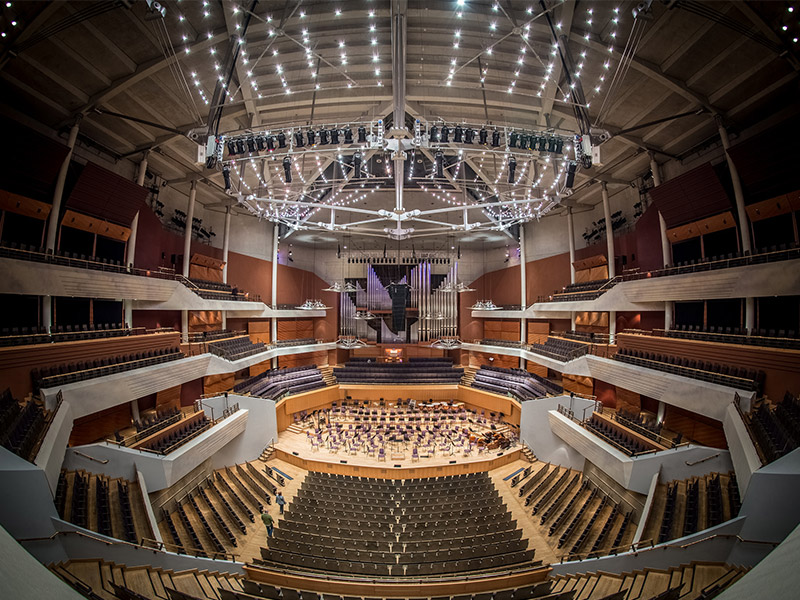 Time
10:00 am – 6:00 pm
(Registration from 9:00 am)
Early Bird Tickets
There is a limited quantity of early bird tickets so be quick!
Format
There will be plenty of breaks and the upper tiers will be open for people to come/leave freely and experience the other content inside the space.
Who is this for
Designers / Architects / Creative Professionals / Educators / Students / Policy Makers / The Curious…D(isrupt)M is for everyone who has an interest in creativity and wants to be inspired.
Educators
We do discounts for large groups/schools/colleges/Universities so get in touch.
Accessibility
Wheelchair and hearing loop
Venue 
You can view more information on here about the Bridgewater Hall, it's situated close to some old nightclub people seem to harp on about a lot.
Hotels
We're partnering with an exciting new hotel in the city: more information will be released soon.
Food and drink
There will be refreshments available to buy within the venue, you can bring your own packed lunch or there are plenty of other food outlets near to the venue for lunch.