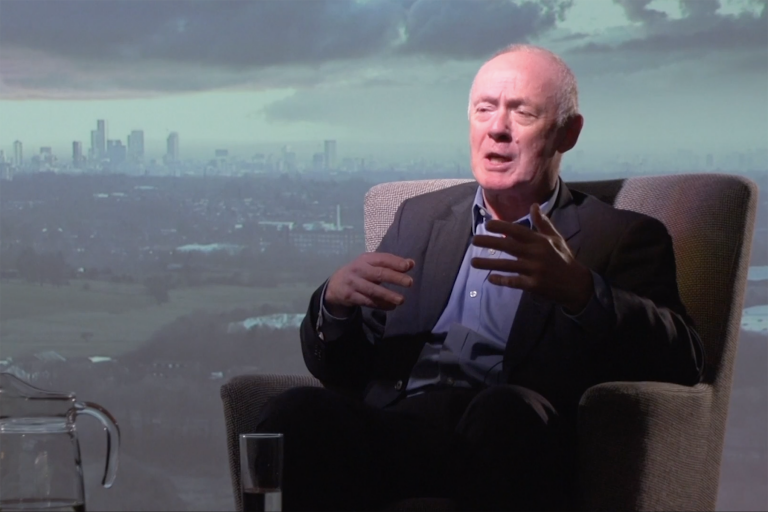 Combined authorities, now widespread in England, were invented in Manchester but inspired by the French system of communes, Sir Richard Leese revealed in a wide-ranging interview with Design Manchester's Kasper de Graaf, before he stepped down after 25 years as Leader of Manchester City Council on 1st December.
The Combined Authority was designed for Greater Manchester as a mechanism wholly owned by the city-region's ten districts to avoid the two-tier model of London, which has no real connection between the GLA and the 32 London boroughs. And even if the model may not answer all the needs of other areas, "when metropolitan governance became more the norm in this country, every other place imitated the Manchester model, not the London model of governance."
The future of town centres; co-designing cities with their residents; the convening power of local government; and the redevelopment of the city after the 1996 IRA bomb – these were some of the other subjects Sir Richard touched on in the conversation with Design Manchester's Kasper de Graaf, filmed before a live audience at Manchester Central Library.
"There isn't a successful region anywhere in Europe that doesn't have a successful city at the heart of it," Sir Richard observed, so transport connections to the nearest city is perhaps the most important factor in reinvigorating town centres, along with "patient" public investment in housing, skills and culture.
When it comes to city development, "the language of consultation has changed to the importance of lived experience, the notion of co-design, co-production and so on." Manchester, he noted, has involved local people and organisations in developing its strategies since its first climate change strategy in 2008. When the city formulated its ten year "Our Manchester" strategy six years ago, "we asked people what their dream Manchester was – we encouraged people to dream about the sort of city they wanted. By asking that sort of question, you got far more creative and informative things from people."
Local government's most important function is delivering services, but what else can it do? The city council is the custodian of place, Sir Richard said – and because of that it can also be the 'convenor of place'. "We have the authority to bring people together – other public sector, the universities, the private sector, the voluntary and community enterprise sectors, citizens groups. And by and large it is that convening power that allows us to bring about the substantial changes that we have been able to make."
The success of Manchester in recent decades is often traced back to its redevelopment after the 1996 IRA bomb, the largest in mainland Britain since World War Two, which exploded in the city centre just four weeks after Sir Richard took over as Leader – but he says the foundations for the city's response were laid earlier than that, under his predecessor Graham Stringer. "We had already created the partnerships and the relationships so that we were able to respond to that bomb in a way that no other city could have done at that time." The first priority was to get businesses back up and running,  but apart from that "we saw this as an opportunity to correct some of those planning mistakes, as we saw them then, from the sixties and seventies, and to reintroduce the city to the river."
A city leader's job is never done and Sir Richard always knew he would be handing over a work in progress. There would be continuity, he said, but it will be different under his successor, Bev Craig.
"I'm absolutely confident that Bev will do a superb job," he said, "but she will do it differently and I think that's great. Who the hell would want another me?"
"Design is How: In Conversation with Sir Richard Leese" was filmed with a live audience at Manchester Central Library on 15 November 2021. It was a Design Manchester production in partnership with the Greater Manchester Business & IP Centre, with the support of Bruntwood and Manchester School of Art.