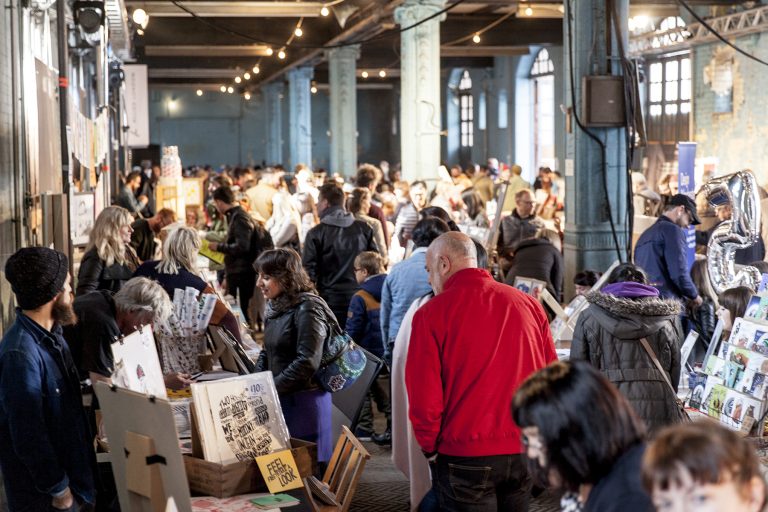 This article by Fiona McGarva was first published in Document 16: Design City, distributed to subscribers of Creative Review in February/March 2017.
2016 was the year Design Manchester's annual festival became a truly city-wide event, smashing all targets, surpassing its own high expectations and winning the heart of the city.

Design is in Manchester's heart. DM16 – from 12 to 23 October – was a city-wide public festival that engaged as always with designers, artists, creative professionals, businesses, policymakers and public institutions, achieving its aim of bringing design to the whole city and its community.
Design Manchester's annual festival more than doubled in size and attendance in 2016. More than 40,000 people attended 35 events over ten days, presented by 300 artists and more than 100 volunteers.
Art Battle Manchester and DM16's Design City Fair saw Design Manchester take over Manchester's iconic London Road Fire Station with live art, a print fair, a book fair, paper craft, bookbinding and letter press workshops, music and street food. Over three days, these events saw over 7,800 people of all ages and backgrounds engaging with design and creativity.
DM16 also introduced the Design City Film Season at HOME, screening classic films introduced by experts who provided an insight into the creative process and the impact of design on the finished work, adding an extra layer of enjoyment to already well-loved cinema and bringing new audiences to Design Manchester.
The social engagement for DM exploded in 2016. Over 7,000 interactions across 3,500 Twitter and Facebook accounts gave the festival as a whole a potential reach of nearly 17 million, an increase of 400% year on year.
Online and printed media carried at least 78 pieces of coverage creating 80 million opportunities to see. 'Creative Review', 'Design Week', the 'Manchester Evening News' and 'Computer Arts' – among many – were incredibly supportive of the festival.
Print, outdoor and digital marketing
This year's marketing campaign, carried out with arts marketing specialists KMS Media and the Audience Agency, with the support of Manchester City Council, was one of the biggest and most impactful new additions to the 2016 festival.
157 print and outdoor ads appeared on the Metrolink, GMPTE buses, billboards, bus stops and the Mancunian Way's digital screens, in addition to the 'Manchester Evening News', 'The Skinny', 'Metro' and 'Crack' magazine. This was complemented by a social and digital marketing campaign, that took in the 'MEN Online' and 'Creative Bloq', plus a Media IQ targeted digital campaign with an estimated 1.8 million impressions.