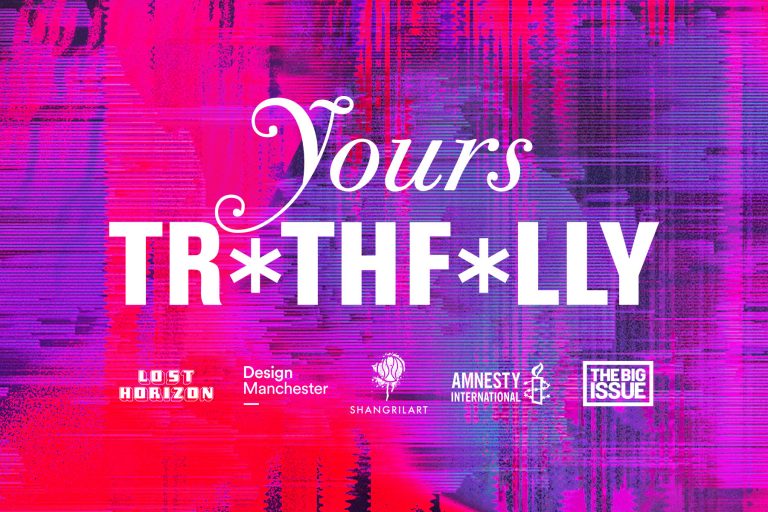 Yours Truthfully VR Tours
Yours Truthfully is a virtual exhibition co-curated by celebrated graphic designer and co-artistic director of Design Manchester Malcolm Garrett, and Lost Horizon and Shangri-La creative director Kaye Dunnings. Created as part of the Lost Horizon VR festival in July 2020, the gallery spaces are revisited for one during DM20.

Featured on the towering billboards inside a VR world, the brief welcomed personal messages from artists to the world on the themes of Truth, Justice and Freedom, calling attention to the most pressing social issues in the world today.
The show features work from more than 70 internationally acclaimed artists and studios including Anthony Burrill, Jeremy Deller and Fraser Muggeridge, Studio Rejane Dal Bello, Morag Myerscough, Patrick Thomas, Paula Scher, Raissa Pardini, Andrew Ibi, Stanley Donwood, and taken together this collation of statements conveys a powerful message of unity, and of the freedom to be creative and have your voice heard.
Tours will take place on Saturday 14th November and tickets are available now.
1st Tour — 2pm
'Tell The Truth'
SARAH BORIS
HARRY PEARCE
TASH WILLCOCKS
2nd Tour — 3pm
'Protest and Society'
ANDREW IBI
RAISSA PARDINI
CRAIG OLDHAM
3rd Tour — 4pm
'Beyond Protest'
HARRIET RICHARDSON
JANE BOWYER
MIKE DEMPSEY