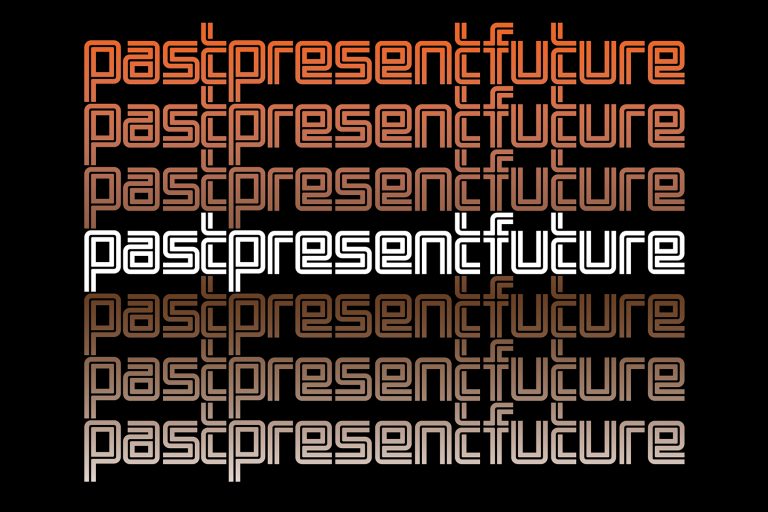 Having curated two exhibitions (with Bury Art Museum) – 'I Shout For The Fall' at DM18 and 'New Art School Rules' at DM19  – John Rooney and Malcolm Garrett have this year conceived an online equivalent for these pandemic times. PastPresentFuture presents audio recordings from world-leading creatives talking about creative influence, places, practice and ideas.
PastPresentFuture was devised during lockdown with a simple premise: contributing designers were asked three questions. First, can you remember the first piece of graphic design you saw, when and where was this? Second, what are you working on right now, and third, do you have any advice for today's graphic design students?
The answers to the first question reveal some common themes and some surprise references too. Where and how you see graphic design for the first time can subconsciously inform future practice. Music packaging was prominent in the list of influence, with artwork for Buzzcocks, New Order and Kraftwerk high in importance. Other influences include sweet shop packaging, ensuring the tin cans on a supermarket shelf point the same way, a copy of Grey's Anatomy and some sparkly stickers.
The voices in PastPresentFuture discuss creative influence and offer valuable words of advice for the next generation of creative thinkers. Thinking about the moment where the journey of creative practice began in the past creates better understating of how current practice works in the present and suggests how to move forward in an uncertain future.
Click on the designers' names to listen:
Ian Anderson, The Designers Republic
Chris Ashworth, Creative Director, Microsoft
Jonathan Barnbrook, Barnbrook Design
Nick Bax, Creative Director, Human Studios
Sarah Boris, Graphic Designer and Artist
Jane Bowyer, Graphic Designer and Illustrator
Anthony Burrill, Graphic Arist
Vicky Carr, Textbook Studio
Rejane Dal Bello, Studio Rejane Dal Bello
Mike Dempsey RDI, Studio Dempsey
Marion Deuchars, Illustrator and Author
Bryan Edmondson, Creative Director, SEA
Harris Elliott, Cultural Curator
Malcolm Garrett RDI, Creative Director, Images&Co.
Jon Gray, Gray 318, Book Cover Designer
Jaheed Hussain, FUSE, Graphic Designer, Writer
Angus Hyland, Partner, Pentagram London
Trevor Jackson, Graphic Designer and Musician
Craig Oldham, Office of Craig, Graphic Designer and Writer
John Owens, Creative Director, Instruct Studio
Tony Pipes, Executive Creative Director, ITV Studio
Jane Plüer, Associate Partner, Pentagram London
Naresh Ramchandani, Partner, Pentagram London
Harriet Richardson, Graphic Designer, Pentagram London
John Rooney, Graphic Designer and Educator
Paula Scher, Partner, Pentagram New York
Patrick Thomas, Open_Collab, Graphic Artist, Author and Educator
Tash Willcocks, Head of Learning Design, Snook
PastPresentFuture is an ongoing project. More voices will be added, each with an individual response to experience, practice and advice.