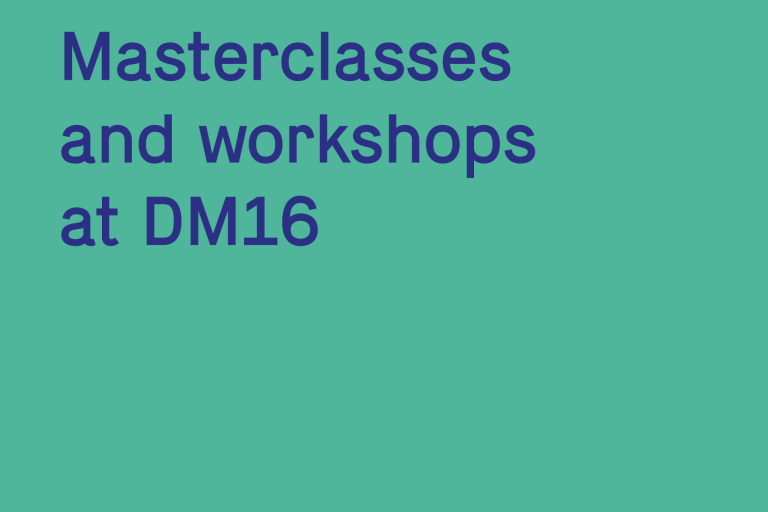 As in previous years Design Manchester has invited its keynote speakers to make themselves available for a wider dialogue with visitors to the festival by engaging in more intimate talks, masterclasses and workshops which are produced primarily for students and young professionals.
This year we are hosting several events across a range of disciplines. Here are some highlights…
On the afternoon of Wednesday 12 October there is a Q&A session, exploring adversity in the creative process, with Professor Helen Storey. This will be held at Manchester School of Art's Benzie building.
In the evening on Wednesday 12 October, at Hyper Island at 6.00pm, the Project CAPE team at the BBC and magneticNorth, host talks and a workshop that will pose the question 'How can we design a city that is accessible for neurodiverse people?' The event is open to all to participate but please register.
As follow up to graphic designer Alexandra Wood's keynote presentation at the Design City Conference on Thursday 13, her partner at Holmes Wood, Lucy Holmes will host a class on wayfinding and information design at University of Salford on the the morning of Friday 14 October. Students from any college are invited to sign up to this class. Interested tutors or students should contact the organisers at University of Salford.
On Saturday 15 October Alan Kitching will talk about his work in the Benzie Building where his exhibition A Life in Letterpress is being staged. This talk will take place in the 4th floor lecture theatre, during the MMU Open Day, at 2.30pm. All are invited to attend.
Also on Saturday 15, Peter Girardi of Warner Bros Animation USA, as a follow up to his keynote talk at the Design City Conference, will conduct a masterclass exploring his approach to animation and cross-platform media programming, and referencing his pioneering interaction design in mid-90s New York. This session will be held at Texture in the Northern Quarter, and will run in the afternoon from 2.30 until 5pm. Students and professionals alike are encouraged to attend this event.
MMU, Age-friendly Manchester, the Co-op in partnership with Pomona Island are hosting New Generation: Design For Living, a full two-day symposium at Co-op HQ in Angel Square. This will take place on Monday 17 and Tuesday 18 October. The second day calls for open participation in the workshops. Please register.
Following this the Pomona Island team will host a book launch, which is open to all at The Pilcrow Pub from 4.30 to 6.30pm. Please just come along.
On Wednesday 19 October at MMU Digital Innovation in The Shed the BBC's Chief Design Officer in Design and Engineering, Colin Burns, will be hosting a special workshop entitled CIRCUX exploring the wonderful world of UX Design. Register here.
These events are all FREE and for the most part open to students from any college, not just the host school. Some details may still be being finalised and some require advance registration as numbers are limited, so please follow the links above to check the information and to register where required.
Please contact the Design Manchester events team for further information on any event.